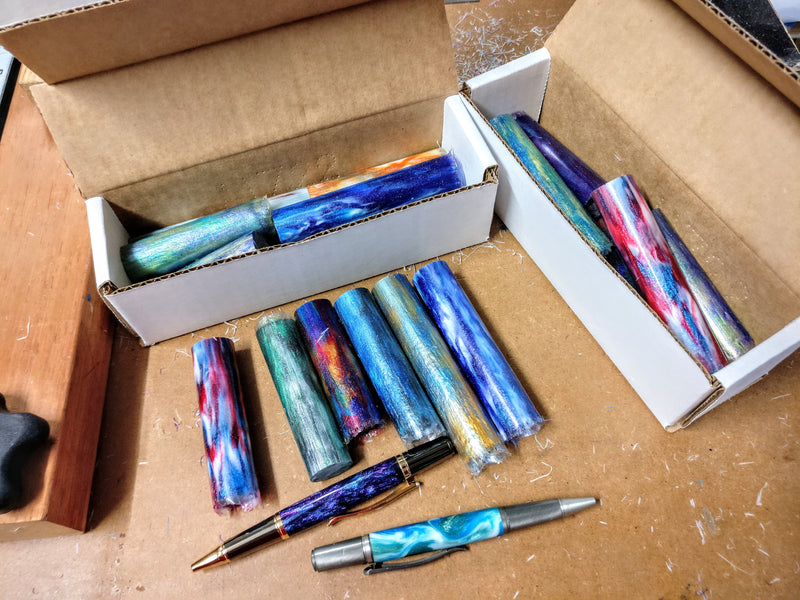 ** 3 Box Limit ** (Orders of more than 3 will get refunded down to the 3 max)
If you're looking to try different DiamondCast colors, or this is your first time trying DiamondCast, these cutoffs are a fantastic deal. Each box contains 6 different color combinations in random lengths. The minimum length I put in a box is long enough to turn a Sierra sized pen from. You're essentially getting 3 full blanks worth of material (Usually $30) in each box. The photo shows a few examples, but each box will vary. 
No special requests on these, they are already boxed up randomly. These will ship with 6 DiamondCast Certificates as well. 
Boxes may contain custom colors or colors not currently offered as stock items. These are NOT seconds but in some cases you'll get blanks that I've yet to release. Most blanks are the .81" thick style but there may be a few of the .722" cutoffs from kitless blanks. 
**Pens shown in photo are examples that were made from cutoffs, they are NOT included in your purchase. You can purchase the Beaufort Ink Sirocco kit from Turners Warehouse in the US or Beaufort Ink in the UK.